---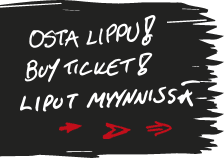 ---
---
---
Latest Updates
Last minute updates
There is still room at our camping sites and school accommodation.

You can change your ticket for a wristband on Friday, Saturday and Sunday at ticket change points next to ice rink (see map).

Ticket change points opening hours:
Friday 12am – 11pm
Saturday 11am – 11pm
Sunday 12am – 8pm.

The Ilosaarirock Festival info point will serve the audience through the weekend. It is located next to the Rekka Stage, about 50 metres from the Main gate. During the festival the lost and found is also at the info point. So if you have lost something, or find something that someone else has lost, just go to the info point.

After the festival on Monday at 12 noon, all items considered valuable are delivered to the North Carelian lost and found office, which answers to your queriest at number +358 600 550 127 (1,99 €/min + lnc). Office is open on Monday 15 July from 11am to 5pm.

You can ask about Ilosaarirock Festival or give us feedback by calling our info phone at +358 50 575 3975 from Mon to Fri between 9 am and 4 pm.
---
News
» Thanks to all you lovely people! (15.7.2013)
» Ilosaarirock Festival kicks off! (12.7.2013)
» Mustasch (SWE) replaces Motörhead (5.7.2013)
» Motörhead cancelled! (1.7.2013)
» Line-up complete, Imagine Dragons (USA) added (15.5.2013)
» Twenty years of Töminä Club! (8.5.2013)
Lissie (USA) to Ilosaarirock Festival!
12.3.2013
Next summer's Ilosaarirock Festival is ever so happy to announce the latest additions to the line-up: the charming folk rock singer-songwriter Lissie (USA) will let us enjoy a sunny Saturday afternoon in her company, while the latest Finnish bands and artists added to the list of performers include Nicole Willis & the Soul Investigators, PMMP and Stella. For an updated list of bands and artists performing at Ilosaarirock Festival, see Line-up.
---
» More artists confirmed! (26.2.2013)
» More new names to Ilosaarirock Festival 2013 (13.2.2013)